At SpokenSkills.com, the members of our multinational team share diverse cross-cultural skills, talents and experiences. We understand the concept of global community, and strongly believe in constant learning, better communication, cultural sensitivity and respect.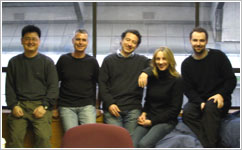 Sebastian Okada
Sebastian has helped companies leverage the Web with online e-learning and information management tools tailored to their business needs and practices. He worked with several start-ups and taught e-commerce, and is experienced in the nuances of cross-cultural working relationships. Sebastian holds an MBA from John Molson School of Business at Concordia University and speaks Spanish, English and French.







Trace Faber
Trace has 12 years of programming and project management experience and led the team that developed SpokenTest and EnglishPresentations. Trace studied at Okanagan University College and is fluent in Dutch and English.

Ly Faber
Ly is the Lead Web Developer. He has 10 years of experience creating web-based survey and media management tools. Before joining us, Ly was a partner at a Vancouver based development firm and studied Anthropology at Calgary University and obtained an Advanced Web Development diploma from Vancouver's Bodwell Internet School. Ly is fluent in Dutch and English.







Kevin Jun
Kevin has been with us for three years and has specialized in language E-learning applications. Kevin studied International Business at Langara College, earned a Bachelor's Degree in Business Administration (BBA) at Vancouver's Simon Fraser University, and a diploma in Advanced Internet Development from Bodwell Internet School in Vancouver. Kevin is fluent in Korean and English.








Dawn Hai
Dawn, our Accountant and Systems Administrator, is a graduate of Peking University in Beijing, where she studied Information Science in the Library Department. After graduating, she worked for a large education management software firm in Zhongguancun, the central science district of Beijing. She wrote about the industry for China Business, and was the Chief Editor of her company newsletter. Dawn moved to Canada from China two years ago and is pursuing her CGA designation. She speaks English and Mandarin.